We offer the following facilities for private functions, fundraising, talks, meetings and conferences. The hall is used by several organisations on a regular and ad hoc basis. The Village Hall committee would be delighted to support your special event as well as more clubs and classes.
Main Hall
A modern hall which is light and airy, centrally heated, with double glazed windows and attractive wooden floor. The hall can accommodate 130 people standing / 120 theatre style / 80 seated at tables, and is approximately 75 square metres. The hall doors open out to a small garden with a couple of picnic benches.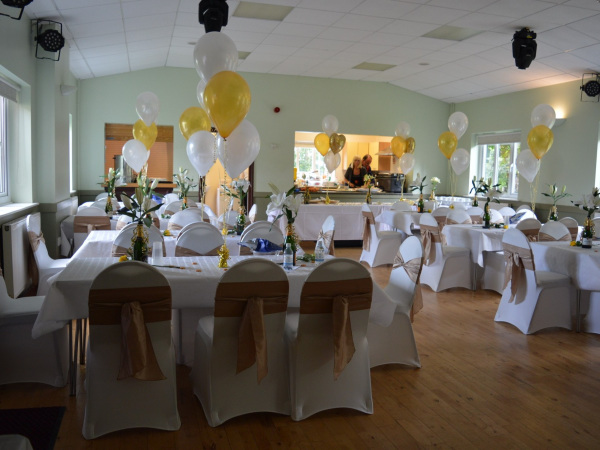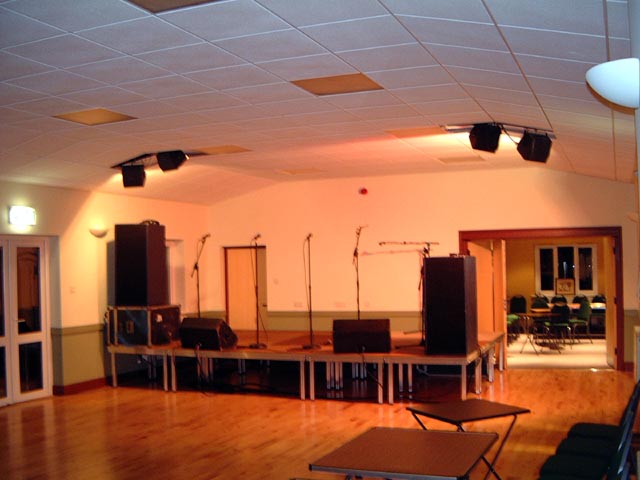 For shows and gigs we have for hire a configurable stage (up to 16 square metres). This can be built to a variety of shapes and heights. The stage lights are programmable and can also be hired and pre-configured. The hall is equipped with a sound system with radio microphone to assist with quizzes, talks, shows, conferences and playing background music.
Please specify your requirements when booking.
Committee Room
There is a small meeting room which is ideal for meetings of up to16 people. This can be hired separately or jointly with the hall. It is equipped with a whiteboard. If rented with the main hall it can be joined to enlarge the available area by approximately 23 square metres.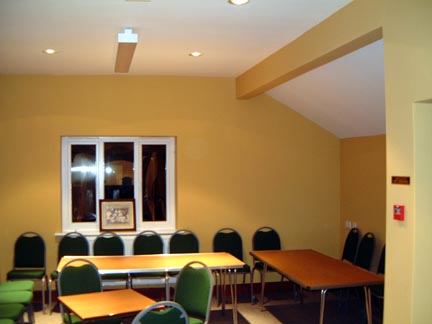 Kitchen
The kitchen is well equipped with place settings for up to 80 people, two double ovens and hob, microwave, coffee machine, fridge, freezer, and many other features to allow catering for larger parties to be undertaken easily. Food and drinks can be served into the main hall from a wide service hatch. It is recommended you provide your own glasses for big functions, other than for water, unless you are booking the bar.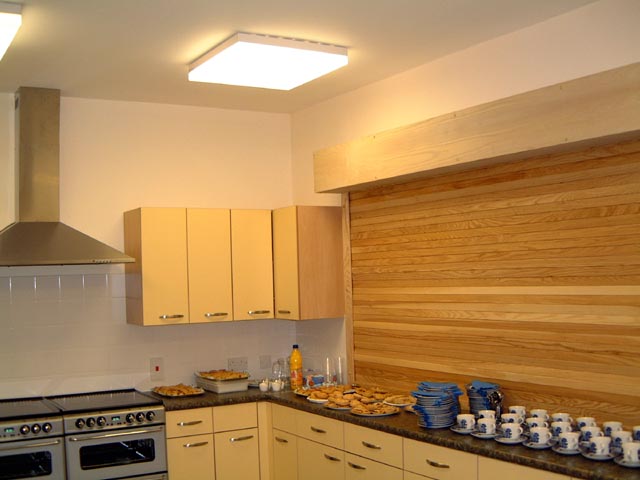 Other Facilities
Licenced Bar – The Village Hall Committee can provide a fully licenced bar for your event for a small additional fee.
Toilets – 2 toilets are available as well as a toilet for people with disabilities. Baby changing facilities are also available.
Accessibility – Easy access is available from the car park via a modest incline on a ramp to a wide double door entrance. There is a dedicated car parking space for blue badge drivers/cars.
Car Park – There is parking for 15 cars.
Chairs and Tables – The hall hire includes at no extra charge 80 upholstered dining chairs, 30 plastic chairs, 12 dining tables, 4 half size dining tables. Additional tables and chairs are available for rent for outside use.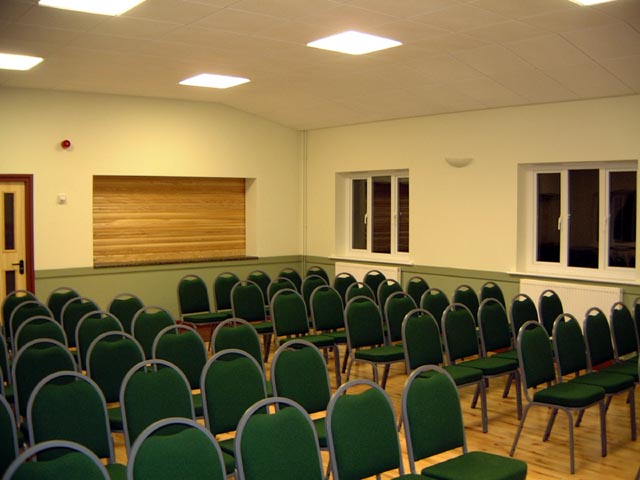 About the Village Hall
The hall is operated on a 'not for profit' basis and all hire receipts are ploughed back into the hall to offer the lowest economic charge for the best possible venue.
The hall was originally built in the 1930's benefitting from a gift from W.H.Youngman. It has been used ever since and is owned by the Parish Council and managed by the Village Hall Committee. In 2000 the hall was enlarged and modernised to a high standard.
The management committee are all volunteers and the village hall is registered as a charity (registered charity No 251011). All fundraising is used to improve the facilities.