General Facilities
Charsfield Village Hall has been extensively rebuilt, extended and refurbished in 2000. It is now able to provide excellent facilities for all sorts of uses by the local community as well as a useful medium sized amenity for people and businesses in the locality. The hall is centrally heated and doubled glazed and provides a very comfortable and pleasant environment.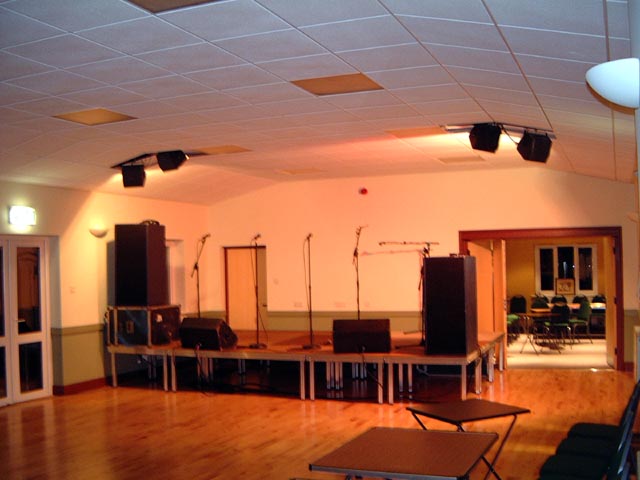 The main hall, providing 75 square meters* of clear space, is finished with a solid beech floor that provides a superb surface for all activities, from dining to dancing. With the hall's own chairs and tables it can be laid out in many ways for all sorts of functions including auditorium, dining, conferences  and dances. * All sizes are approximate From time to time the equipment levels will be upgraded. Always check at the time of booking your precise needs. Using the booking form ensures that your needs are communicated to the management committee.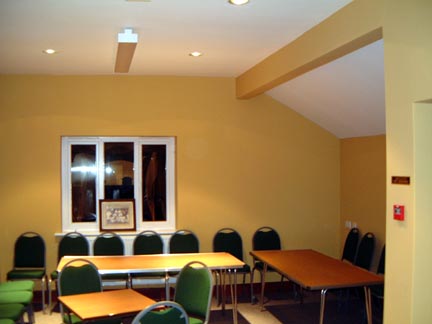 A committee (or meeting) room is available for separate or joint rental. It is ideal for meetings for up to 16 people. It is equipped with a whiteboard and telephone access. The usual requirements for business meetings can also be provided. It is very comfortable with carpeting and individually adjustable heating.
If rented with the main hall it can be joined to enlarge the available area by an additional 23 square meters*.
Kitchen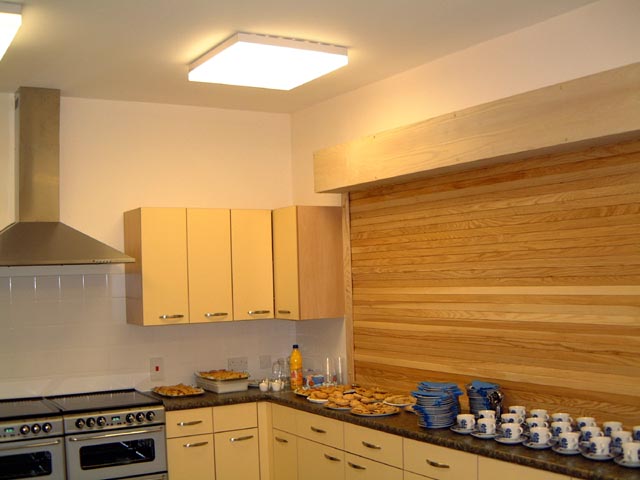 The Hall is also has a kitchen that includes two double ovens and hobs, fridge, freezer, and many other features designed to allow catering for larger parties to be undertaken easily. Food and drinks can be served into the main hall from a wide serving hatch. The Hall also offers a licensed bar which can be booked for events. The Village Hall Management Committee hold a premesis license and can usually provide a bar, if booked in advance, and is subject to an additonal fee and sometimes a deposit against potential losses. The bar provides a useful form of supplementary income for the hall enabling us to buy useful addition items for the hall's users to use often F.O.C.
Help for the disabled and Baby Changing Area
Easy access is available from the car park via a modest incline on a ramp to a wide double door entrances. A wide doorway is also provided to a large disabled toilet where all facilities are at low level which is also useful for children. A baby changing table is provided.
Equipment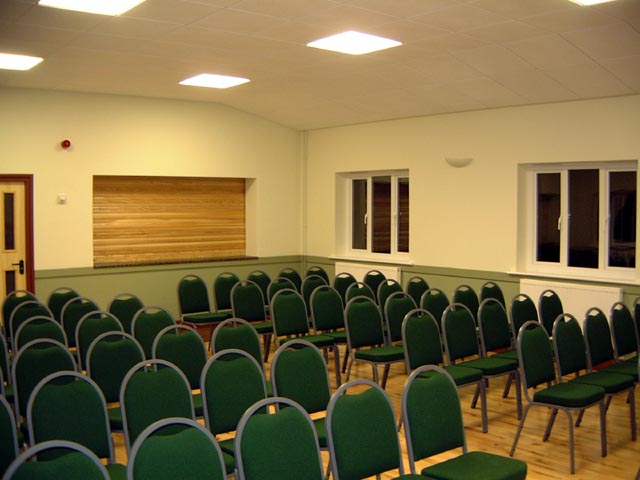 The hall hire includes at no extra charge, 80 upholstered dining chairs ideal for sitting for longer periods, 30 plastic chairs, which are easy to keep clean, 12 dining tables and 4 half size dining tables. It is therefore possible to seat more than 80 for a dinner or wedding breakfast. Additional tables and chairs are available for rent for use outside.
A Praktikus portable stage offering up to 16 square meters of performance area can be hired for a small charge to cover erection and dismantling. This can be built to a variety of shapes and heights. The stage requirements should be agreed when booking the hall. DMX controlled stage lighting is also available and this should be requested at the time of booking. As this has to be programmed for your individual requirements there is a charge for the professional setting up.
The hall has a pre-provided sound system with radio microphone and background music to assist with quizzes talks, shows and conferences. Requirements should be specified when booking. For bigger events we can hire a wireless PA, mixer, DJ Desk, and radio mikes.
The kitchen is well equipped with place settings for up to 80 people. Cooking equipment, a coffee maker and microwave over are also in the kitchen. It is recommended that you provide your own glasses for big functions, other than for water, unless you are booking the bar of course.
Organisations
The Hall is already used regularly by several organisations. They enjoy the benefits of low rents enabling them to operate successfully with minimal subscriptions. The management committee would be pleased to discuss with anybody wishing to set up a new organisation on an ad hoc or regular basis. Ideas such as Carpet Bowls, Film Night, Quiz nights or other social events, and evening classes are all worthy of consideration. Contact the management committee.
Private functions
The hall is also available for private bookings. It can provide the perfect venue for a party or a wedding reception of modest proportions (up to 84 diners). With the new kitchen caterers will be able to serve up grand feasts whilst the guests sit in the comfortable and informal surroundings of hall. The hall is flexible regarding the serving of alcohol allowing hosts to give their guests drinks or by having a pay bar (arranged when booking the hall). Guests can stay on until the evening when the guest list can be extended to 168 (without the tables).
It is also possible to open the doors into the garden and patio to increase the space available for larger events. A small marquee can be erected in the garden area by prior agreement.
Fundraising
For local good causes or charities the hall can offer a very cost effective venue to host a fundraising event. Recent examples include dances, auctions, table top sales, and theme dinners. Local residents and charities get special rates.
Refreshments (hot beverages, soft drinks, cakes as well as lunches) can all be arranged with adequate notice.
Talks, meetings and conferences
The hall offers a very attractive and cost effective venue for local businesses to hold meetings, workshops and conferences. The committee room provides good facilities for up to 16 people to be seated around a table, plus a whiteboard and other facilities upon request. For larger meetings and conferences (up to 50 people in meeting style) the main hall can be used with the committee room for syndicates.